At two years, my son would hardly sit still to watch tv. Whether it was a boring news bulletin that he did not like watching or it was his favourite cartoon network channel, the boy just would not sit.
He was always climbing on the couches and tables in the living room and hopping from one furniture to the other.
I was really perturbed.
What was wrong with him?
Why could he not just sit still like other kids?
In an earlier post, we have seen that some autistic kids will want to climb on house furniture, trees and walls all the time. No matter how much you warn them or complain about it, they will still want to do it. It can be dangerous and you therefore have to find a way to stop this risky climbing.
But climbing is not all bane.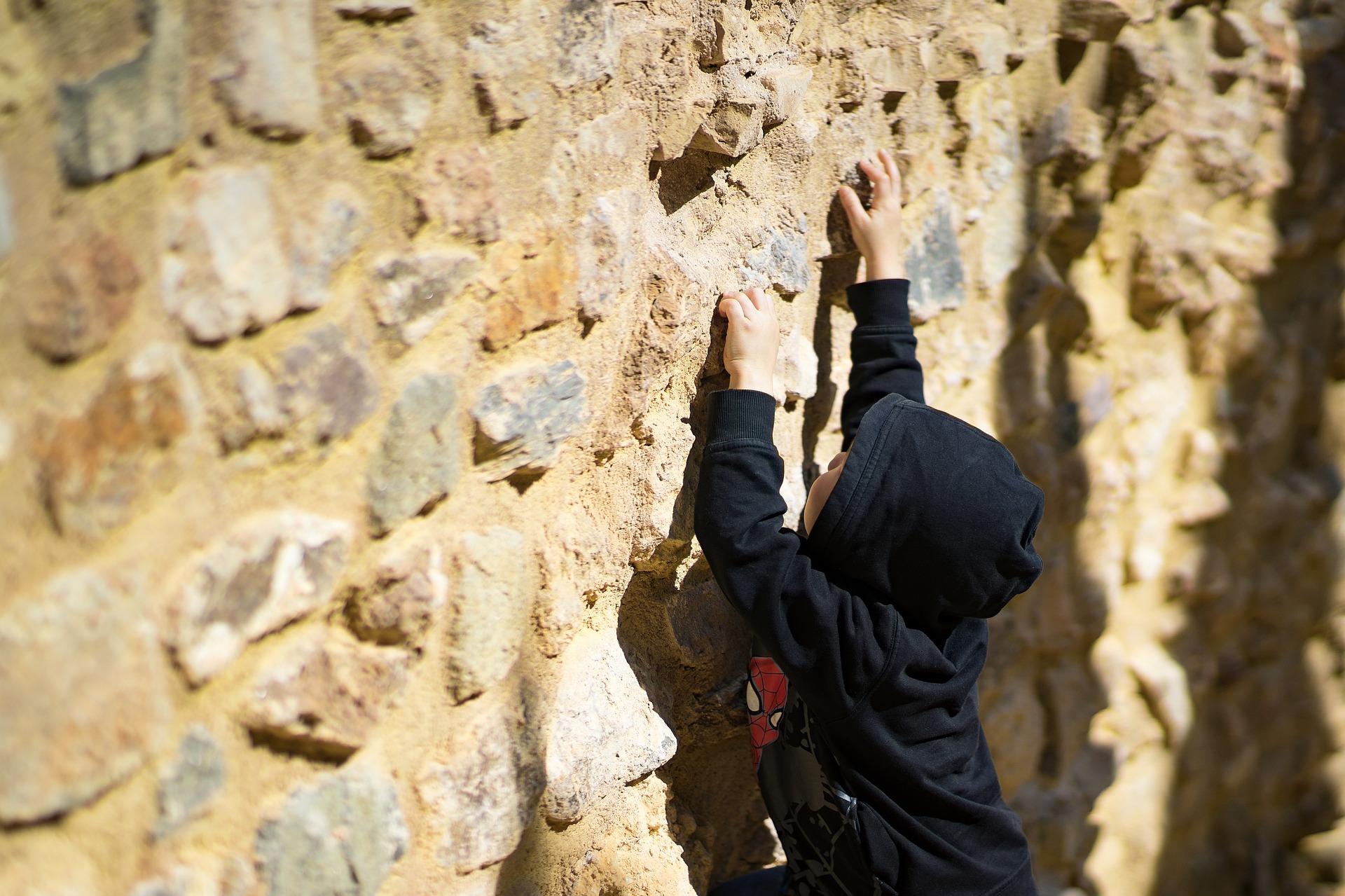 It actually helps your kid develop their motor skills. Climbing is a sign that your kid is seeking for proprioceptive sensory input. One way that we recommend in solving this problematic climbing is getting some good beginner rock climbing holds for your autistic kids.
| Image | Title | Buy |
| --- | --- | --- |
| | TOPNEW 25PCS Rock Climbing Holds for Kids, Large Climbing Holds for Play Set, Swingset - Adult Rock Wall Holds with 2 Inch Mounting Hardware for Indoor Outdoor Rock Climbing Wall | Check Price on Amazon |
| | Lil Mountain 25pcs Rock Climbing Holds for toodlers, Kids, and Adults, Indoor and Outdoor Play-Set, Build Jungle Gym Rock Wall Climbing with 8ft Climbing Rope with Mounting Hardware | Check Price on Amazon |
| | Rocky Mountain Climbing Gear B5-BQD7-234H 25 Screw On Climbing Holds | Check Price on Amazon |
| | BABY FUN 24 Climbing Holds for Kids and Adults, Rock Climbing Holds - Mounting Hardware Included - Climbing Rocks for DIY Rock Climbing Wall | Check Price on Amazon |
You could also get some good autism climbing furniture such as ladders and ropes.
You can then go ahead to install the climbing holds in your house or even outdoors on walls.
Let us first look at how to attach climbing holds to a brick wall in your house:
Drill holes into your brick walls. They should be wide enough to allow in the expansion sockets
Hammer the sockets so that they are flush with the wall
Fix the holds on the sockets and tighten them
Space out the holds so that a child can easily reach and step on them as they climb up
Once you have the holds in place on your wall, you can invite your child to try them out. See to it that the climbing is seamless and easy for your little one.
Types of Climbing Holds
Pockets
They have a round hole that allows you to use two or three fingers for support. Using the ones that allows you to fit your fingers helps your fingers to stay on a straight line. Make sure to make your middle finger a first priority since it is the strongest, you can add other fingers if there is still room for more.
Pinches
These holds are placed in a vertical orientation.They are too narrow to fit your entire hand. They require a great strength by using your thumb on the opposite side of the hold to create a string squeezing force.
Slopers
Slopers don't have a positive angle for you to grip on, this seems a bit tricky. For you to be successful on such holds, first you have to position your body directly opposing your direction of pull. Try as hard to make the body have a low center of gravity by balancing yourself as you make your moves. Slopers take time for beginners to feel comfy while using.
Undercling
Underclings are meant to be gripped from the bottom as you try to pull up.As you move your body above an undercling it becomes easy to hold.
Climbing styles
Rock Over
The rock over style is just a basic idea of just moving your weight onto a foot hold. Placing the foot on a hold allows you to easily pull the rest of your body across. Once you get up then you are and all your weight is over the foot then, it becomes much easier to go you up.
Flag
Flagging helps mostly in balancing and making your hip locked to the wall. This style allows you to twist your hip in and then press the lifted foot to the wall, then fix the twisted hip to allow you to move your hand.
Knee Drop
Though this style seems unreasonable,it takes time to master. This style when mastered can make intense climbing become much easier. To perform this style, your foot must be on a hold, twist your knee downwards to the center. Dropping your knee allows you to raise your arm higher, it also leaves weight to your other arm, when your arm is raised and having a hold, this allows you to make another move.
Match
Match style is when you use both hands to grip on a hold. This style is mostly used when one is making a pause or when you reach the end.
Dyno
For the dyno style, you sink downwards aiming for a hold that is very high and needs a rapid grip. You wouldn't reach this hold normally but for that explosion you are able to go past many holds.
Factors to consider while choosing best climbing walls for your autistic kids
Comfort and safety
You can't imagine purchasing a climbing hold with lots of money only to have it being a source of health hazards for your special needs kid. When such hazards happen, you will end up paying more to meet hospital bills caused by sprains and fractures on the child. It will also be really sad to have your kid hurt for something that you could have avoided, right?
We advise therefore that you choose a hold that is able to interact with the kid's fingers well. If possible, get a rope that holds the child on to position in case of a fall or have some soft foamy landing in case a fall happens.
Material used
One of the main reasons why holds have a different range of price is because of the material used. Polyurethane is a light and strong material. Some manufacturers use cheap plastic that will wear off fast. Others use synthetics that last much longer since they pour a high ending and feel much better.
Polyester is very common in European climbing gyms.The color of polyester holds won't change fast compared to polyurethane, hence it is suitable for outdoor use. Wooden holds are a great choice especially since they are skin friendly. There are also other holds such as fiberglass macros, plywood and ceramic holds.
Shapes
Get a great variety of grips ensuring that the different types of holds are present for effective exercises. Choose the best sizes of holds for your wall. You need to avoid getting too big holds for a limited wall space.
Cost
Cost difference is due to material used or size of the holds used. Skin friendly holds and the shaping of the hold also contribute to the pricing.
Atxarte Squished Fonts Climbing Holds
The holds are large in size that will be perfect for adding to any wall. Their texture is font type to ensure that they give you a great hold with no doubt. The Atarte Squished Fonts are made of ultra-durable urethane. They are designed by climbers in the USA to assist other climbers. Mounting hardware is included.
Pros
Consists of large features that are perfect for exercising.
Made from a durable material.
Installation hardware is included.
Rocky Mountain Climbing Gear EE-XSVD-07PW Rock Climbing Holds 3ft Rock Climbing Crack
These are a 3ft rock climbing crack. They can be used on a vertical surface, an overhang or also on a corner. All mounting hardware is included.
Pros
Perfect for training.
Ability to support all weights.
Made from durable materials.
Interesting shapes.
Cons
Atxarte Enormous Worms Climbing Hold
The atxarte enormous worm climbing holds consists of five worm like pinch with crimping options. The material used for the creation of this climbing hold is an ultra-durable urethane. These climbing holds are made in the USA by climbers for climbers. Hardware for installation is
included.
Pros
The pack comes with installation hardware.
Made from ultra-durable methane.
Leofit 12pc Ninja Tree Climbing Holds Rock Climbing Holds for Kids Climbing Rocks with 6 Ratchet Straps for Outdoor Ninja Warrior Training
This device acts as a perfect setup as a game for kids to reduce the monotony of the normal games that they are used to. This makes your kid lively,it also allows your kid to exercise their bodies and improve balance.
The 12 pieces contain bright colors and different shapes that are made of climbing holds. The material used is a high quality plastic resin material which forms not easy to crack or fade holds.The surface of these holds are easy to grasp so as to provide a great training for kids.
The pack comes with 12 colored climbing holds and 6 ratchet straps. The installation only requires you to attach the rock to the ratchet ribbon and tie to a tree trunk. The nylon woven rope has a width of 25mm and a length of 6.6ft, the high quality metal ratchet provides a capacity of up to 230lbs. This also enhances your kids confidence while playing.
Pros
Easy to install
Sturdy enough for kids to enjoy with confidence.
The material used makes them more durable.
Hooroor Ninja Warrior Obstacle Course for kids -66ft Ninja Line Slackline With Tree Climbing Holds, Swing, Seat, Monkey Bars, Ring Wheel, Rope Ladder, Fun Training Outdoor Playset Jungle GYM Kits Gift
This playset has got to keep your kids busy especially during holidays. This is the best gift that you can offer to your toddler during holidays. Starring on tv all day or play board games sometimes leads to boredom.
The setup ensures that you make safe installations by providing user manuals and video instructions. The setup is suitable for kids above three years old. Some of the features of the playset are adjustable according to the kids playing, for the 66ft ninja line is fit from 37 to 56ft tree distance.
The ninja tree climbing holds are accompanied by 12 colourful climbing rocks,a 6 by 10 ft ratchet tie and a snug to the tree safely and sturdy. The holds are made of high-quality plastic resin that are weather resistant, they do not crack or fade. The foot and hand grips are made easy for kids to grasp and climb with comfort. This setup is suitable for kids who weigh less than 230 pounds.
The whole playset includes 59 pieces of accessories; 1 by 2" by 66ft Ninjaline,1 big ratchet for slackline, 6 small ratchet for slackline, 12 tree climbing holds, 1 steering wheel, 2 gym ring swing, a rope ladder, a swing seat, 3 monkey bars, 2 rings, 12 triangle clip, 12 carabiner , 2 tree protector cushion, 1 caring bag, a tape measure and finally a user manual.
Pros
Requires just less time for installation.
Helps kids to do exercises as they enjoy.
Provides a wide range of games for kids.
Cons
Metal clips break very easily.