Children with special needs may have challenges with bike riding. Everything seems to be difficult like trying to coordinate balance, pedaling, and steering. However, there are adaptive bikes for autism, cerebral palsy, down syndrome, and more. These bikes offer a sense of freedom and mobility while strengthening coordination, balance, and other skills.
Mobo Triton Pro Bike for Disabled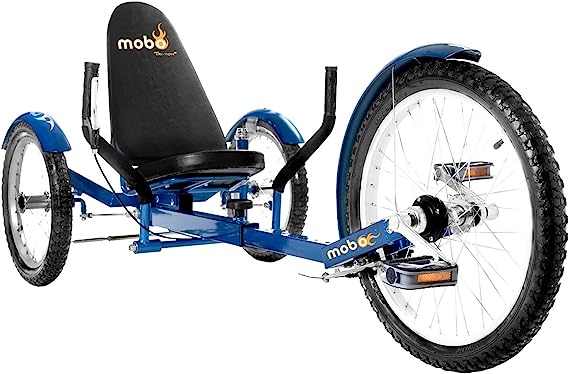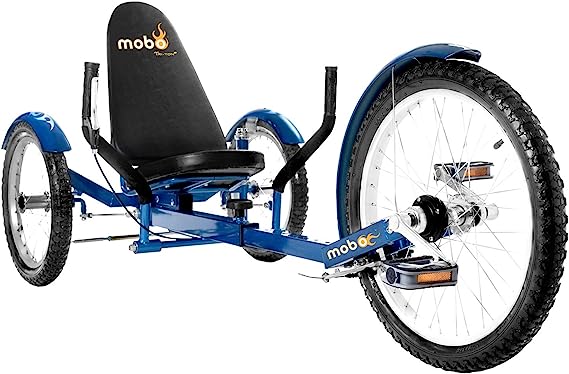 ---
Maximum stability
Great exercise equipment
Durable Heavy duty
Schwinn Triton Bike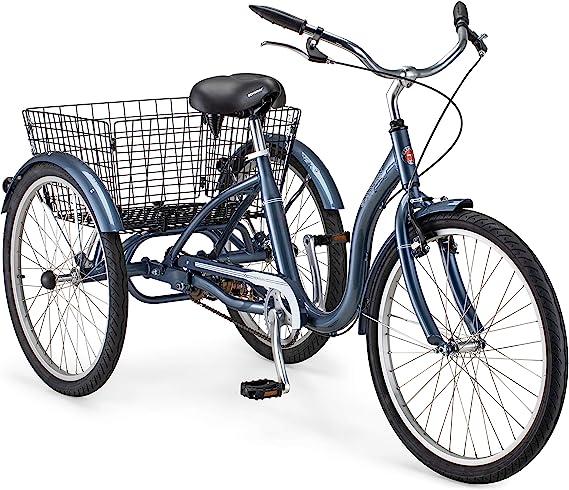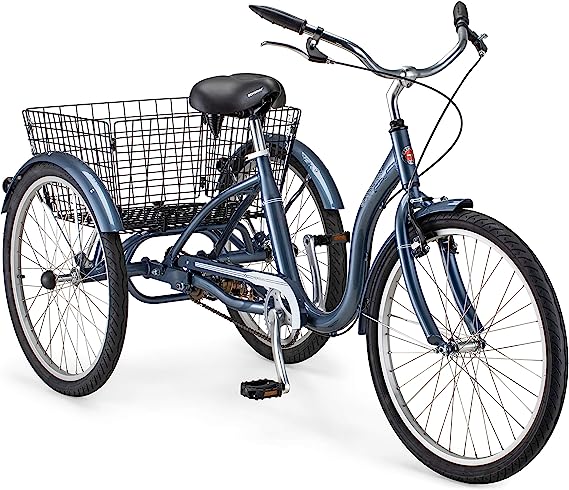 ---
Stable and balanced three wheel bike for kid with special needs.
Easy to train on
Again, there are suitable bikes for everyone from toddlers to adults. If you have a special needs child, you need to consider getting him/her a suitable special needs bicycle. Sourcing these bicycles may be a little engaging.
That's why we have done the search for you and compiled 10 adaptive bikes for autism reviews. With their top features, what we like and what we don't. Spare a few minutes and get to know what we found.
Adaptive Bikes for Autism- Buying Guide
Today choosing a bike for your autistic child is easier. Because there are a variety of bikes that make bike riding possible and easier today. However, to get the best you have to gauge your child's challenges to see if they need a specific type of bike. Let's look at available models for your autistic child.
Regular Bikes
A regular bike will help your child learn to balance and coordinate. However, experts discourage the use of training wheels since they discourage the two important riding skills; balance and coordination. To use this bicycle your child needs to balance and manage to pedal; which might be a challenge.
Balance Bikes
Balance bikes are great for children who have difficulties performing more than one physical action simultaneously. These bikes don't have a pedal. To use these bikes, you need to push them forward with the rider's leg instead of pedaling. The secret is teaching balance without pedaling distractions.
Tandem Bikes
This bike has two seats, so you can ride it together with your child. However, you do all the pedaling and steering though your child can also pedal and hold the handlebar too. This bike is good for your autistic child since they will learn to pedal and steer freely.
Scooter
Scooters are a good option if your child is too young for a bicycle. Also, scooters are easy to use, safer for toddlers, and much lighter to maneuver in comparison to normal bicycles.
Tricycle
Tricycles are a good option when transitioning from scooters. Scooters will prepare your child for pedaling and steering but not balancing; building their confidence. Again, tricycles are the best bicycles for people with severe disabilities.
Top 10 Adaptive Bikes for Autism Reviews
1. JOYSTAR Kids Balance Bike
It's true to say, life is all about balance. However, learning to ride is easier when your child masters balance. This bike has no training wheels, making your child learn to balance at a young age. With time they will be confident and comfortable with a bigger bike.
Features
Adjustable seat and handlebar: this bike is suitable for kids within 18months to 5years. Also, you can adjust the seat using a quick seat clamp within 12.6"- 18.5," and make your child enjoy cycling fun.
Design: this balance bike has a simple design that fits all. Your child can easily get on top and off the bike easily using the bending frame. Within no time your kid will ride intuitively on this bike while developing coordination and balance.
Foam tire: the bike has an airless foam tire which is easy to maintain. Besides, the tire weighs only 1.0lbs each; which is about 40% lighter compared to rubber tires.
Footrest: helps your child find the center of gravity, which is important as they learn to transition to pedals quickly.
Pros
Help build confidence in children
Light weight
Easy to assemble
Padded seat
Adjustable
Unisex
Airless tire
Cons
Need adult assembly
No training wheels
2. RoyalBaby Kids Bike
RoyalBaby kids bike manufacturers are experts in kids' bicycles manufacturing. This kid's freestyle bicycle has a safe package to ensure safe delivery. Also, the bike doesn't require engaging assembly; its 95% parts comes fully assembled.
Features
Safety: royalbaby freestyle bicycle has handbrakes and a safe grip for your child's safety. In addition, the front caliper brakes and rear coaster brakes enhance safety while riding. The wide 2.4" tires also boost the bicycle stability, while the non-slip pedal ensures their feet remain in place.
Easy riding: be sure with this bicycle, your little one will enjoy a smooth ride. With sealed bearing and exclusive brake lever for efficient braking.
Design and color: this bicycle comes in different bright, charming, and stylish colors. The DIY decal and bell add more fun to your little one ride. Also, the bike seat has handles making it easy to grab when loading and training.
Size: there is a size for everyone. Available sizes include; 12, 14, 16, 18,& 20 inches. To get the best size for your kid, consider their height and follow the provided chart for guidance.
Pros
Built-in efficient brakes
Non-slip pedals
Soft comfortable seat
Training wheels
Safe riding
Cons
3. Mobo Triton Pedal Go Kart Trike
If you are looking for special needs bikes and trikes for exercise look no further. This mobo triton trike is made for cruising on flat paved surfaces and also gently sloping terrain. Your child will enjoy unprecedented stability with the recumbent brakes, enhancing his/her riding confidence.
Features
Comfortable: recumbent trikes are more comfortable to ride. First, your child will enjoy evenly cushioned back support, with an ergonomic recumbent seat. Secondly, if your child prefers a secure and comfortable ride this 3-wheeled bike will give them a more secure ride compared to standard bikes.
Long-lasting: this bike is heavy-duty and long-lasting, constructed with Hi-ten steel. Further, this bike features caliper hand brakes, low maintenance chainless design, 12" rear wheels, 16" front wheels, a safety flag, and inflatable rubble tires.
Suitability: this bike weighs 39lbs suitable for up to 200lbs user weight and it's 11" above the ground. Besides, you can adjust to fit your child within 3'8" to 5'2".
No balance required: this three-wheel bike is a good balance bike for autistic child. It is stable offering simple maneuverability using hand movements.
Pros
No balancing required
Stable
Long-lasting Hi-ten steel frame
Easy to ride
Adjustable frames
Cons
It's not very fast
Heavy for a kid
4. Schwinn Grit and Petunia Steerable Kids Bike
Schwinn grit is among adaptive bikes for special need child and young beginners. The bike has a removable parent push handle with a water bottle holder. You can help to steer your child as he/she learns how to pedal and steer. Again, it has removable training wheels to enhance balance before they can learn to balance on their own.
Features
Easy riding: this steerable kids bike is easy for your child to use. With the pedal brakes, they have intuitive stopping power.
Grows with your child: you can easily adjust this bike's seat to fit your child. What you need to do is open the lever, make your adjustment your seat height and close again. With this, they will not outgrow them faster.
Removable training wheels: this bike is fitted with heavy-duty training wheels to support your child as they learn how to ride. The 12" tires enhance their comfort for a smooth ride.
Extra protection: the last thing you want to hear of is accidents. However, this bike has hidden chains to keep your child safe and clean.
Pros
Parent support handle
Training wheels
Adjustable seat
Hidden chains
Easy to use
Cons
Requires minimal assembly
Handlebar not adjustable
5. Jetson Jupiter Mini Kids 3-Wheel Light-Up Kick Scooter
Are you looking for a suitable adaptive bicycle for cerebral palsy, autism, and other disability? Look no further. Jetson light-up kick scooter is lightweight and fun. Your kid will love it for its features, and as a parent, you will appreciate its safety-first design.
Features
Adjustable bar: this scooter has an adjustable handlebar, so your child will not outgrow it faster as they get a little older.
Scooter light: besides the scoter lights being attractive, they are also great for safety. It lights up on the handle area and at the rear side. Also, the wheel's light when turning.
Design: not only is this scooter light in weight but also has easy to fold mechanism. You can take this scooter anywhere with you and also easy to store. Further, this stability and balance bike for autistic child is 3 wheeled to increase its efficiency.
Safety: the scooter has a rear fender foot brake so you can be sure your kid will always come to a safe and secure stop.
Pros
Sturdy wide durable frame
Safety lights
Easy folding for storage
Weighs only 7pounds
Wide base
Adjustable
3 wheels for stability
Cons
Up to 132lbs user weight
Minimal tool assembly required
6. Strider – 12" Sport Balance Bike
Striders are known bike pioneers with 12" sport balance bike the most popular model available. This balance bike for an autistic child and other beginners is known for initiating cycling love without using training wheels. With time your child will be able to cycle a big bicycle.
Feature
Low weight: this strider bike is made using bushings instead of bearings, and foam solid tires in the place of inflatable rubber making it light in weight. However, be careful when using on moist slippery surfaces.
Suitability: sport balance bike is ideal for children as young as 18months. Let your child experience riding thrill while nurturing coordination and confidence.
Handlebar: the bike has mini grips for your child's little hands. Also, you can adjust the handlebars without much struggle between 18-22". No more uncomfortable grips, the handles have safety pads for comfort.
Design: this bike comes in a range of colors, so you can choose your child's favorite color. The bike weighs 3.0kgs, your child can easily carry it around and supports up to 27kgs user weight.
pros
Light enough for your lids to carry
Long-lasting
Easy to assemble
Help to improve balance
Solid foam tires, no pumping
Color variety
cons
Sometimes the handlebar is stiff to adjust
No written instructions but easy to follow pictures
7. KaZAM Classic Balance Bike
KaZAM classic balance bike is one of the adaptive bikes for autism, cerebral palsy, and children with all abilities with a straightforward approach. This bike has an adjustable ergonomic seat that grows with your child.
Features
Solid metal construction: this adaptive bike is built with high-quality materials; aluminum and steel alloy to withstand over time regular use. However, the bike is heavier and larger compared to its competitors. Certainly, the bike can withstand children's rough play.
Handles: this bike has adjustable handles, so you can adjust to your child's requirements. Also, the handles are made of soft plastic to protect their delicate hands and also enhance grip.
Patent Footrest: this footrest unique design allows your child to use the bike just like a scooter as they learn the tricks. Also, the compact footrest allows your child's feet to sit in their normal position.
Rubber tires: KaZAM balance bikes ensure stability for your autistic child. Thanks to the pneumatic rubber tires. In addition, these tires will endure all terrains easily, while they don't go flat.
Pros
Adjustable seat and handles
Rubber wheels
Encourage play
Compact footrest
Comfortable padded seat
Cons
A bit hard to self-balance at first
Downwards sloping seat
Slow acceleration
8. Baby Tricycle 8 in 1
This Baby tri-cycle is made to grow with your kid. With the rear-facing infant seat, front-facing seat, reclining seat, and parent steering tricycle. The trike also has a space for an extra child space to stand alongside the sibling. You can always reverse the seat to allow the baby to face you or interact with nature.
Features
Durable material: this push trike is made with inflatable all-terrain wheels, oxford fabric to provide a ventilated seat back, and a metal material that can hold up to 55lbs of user weight.
Safety: every detail is designed for your child's safety. The wheels are hollow to prevent clamping and prevent sliding or leaning overly forward. More so it has reflective material for safety at the night.
Multi-functional: with different folding and assembly, you can transform this trike into; full view tricycle, push stroller, steering strike, baby walker, and normal trike. The reclining seat, wheel clutch, reverse seat, and foldable canopy are the best companion for your child while outdoor.
Reclining backrest: the rotating seat and foldable handlebar make it possible for this tricycle to fully recline. Your child can comfortably sleep after play or when tired.
Pros
Multifunctional
All-terrain wheels
Safety approved
Non-inflatable rubber wheels
Long-lasting breathable material
Adjustable parent push handle
Cons
9. COOL-Series Kids Trike Toddlers Children Tricycle
[amalinkspro type="showcase" asin="B07L1KYCQY" apilink="https://www.amazon.com/dp/B07L1KYCQY?tag=amalinkmonterabbi-20&linkCode=osi&th=1&psc=1″ new-window="true" addtocart="false" nofollow="true" sc-id="6″ img-sizes="500:500″ imgs="https://m.media-amazon.com/images/I/417Gun6s0BS._SL500_.jpg" link-imgs="false" specs="【Perfect growth partner】:The trike is suitable for children ages 3 +. 4 ways to ride: infant trike, steering trike, learn-to-ride trike, and classic trike. Let the COOL-Series of tricycles accompany your childs growth." btn-color="#ff9900″ btn-text="Buy on Amazon" alignment="alignnone" hide-prime="0″ hide-image="0″ hide-price="0″ hide-button="0″ width="600″]COOL-Series Kids Trike Toddlers Children Tricycle Stroller Trike 3 Wheel Pedal Bike Multicolor for 3 4 5 Years Old Boys Girls Indoor & Outdoor with Storage Bin and Cup Holder (Pink)[/amalinkspro]
Get your child this iconic trike tricycle and give them a lifetime memory. This bike is among the best adaptive bikes for special need child. It comes with a front basket, your child can always carry their toys along and have fun. Again the attached bell adds more fun.
Features
Adjustable and detachable: this trike will give you an easy time to assemble and disassemble any time you want. So you can be able to carry it along. The seat and handlebar can be adjusted to fit your child in any stage of height.
Colors: get your child this tricycle in their favorite colors. Either blue, green, white, pink, or red. Let your child benefit while having fun and enjoying freedom.
Design: your child will definitely love this bicycle features. The bike has two baskets; at the front and at the back. So, they can carry their toys around. Also, there is an attached cup holder on the push handle.
Long-lasting: this bike is made from plastic and durable metal. With 77lbs maximum user weight. Good enough for your kid's first ride.
Pros
Available in many colors
Adjustable
Basket and cup holder
Safety belt
Easy to disassemble and assemble
Cons
No canopy
Front wheels' pedals can't be removed
10. SmarTrike Zoom Toddler Tricycle Push Bike
If you are looking for an adaptive bicycle for cerebral palsy, autism, or any other special child? Smartrike tricycle is a 4in 1 bike that will help your child transition to bigger bikes. It is suitable for a child between 15months to 36months.
Features
Working 4in1 design: this tricycle is made suitable for every stage of your child's growth. In addition, the trike is made to help your children gain independence while developing balance, confidence, and motor skills.
Touch steering technology: enjoy an easy time with your child. The parent control button allows easy transition between child and parent control. Also, the touch screen technology allows easy control of your ride direction using only one hand.
Safety: be sure your child is safe while using this tricycle. It has three points harness and safety bars for your child protection. The front wheels have shock absorbers for a smooth ride both for you and your child.
Footrest: this trike has an easy-to-fold footrest. As your child grows you can unfold them to support their legs until they can reach the trike pedals. This helps to avoid dragging legs on the ground.
Pros
Easy steering technology
Removable canopy
Child- parent control
Training pedals
Safety belt
Grow with your child
Cons
Tricycle doesn't fold
Plastic wheels
Finally, adaptive bikes for autism, cerebral palsy, down syndrome, and other physical and developmental disabilities help strengthen coordination, and balance in an accessible way. These bicycles are available for different ages and abilities.
Hopefully, this adaptive bikes for autism reviews is useful as you get the right assistive bike for your loved one. Happy riding.