Without further ado, we recommend the WowWee Chippies Robot dog as the best toy for kids with celerbral palsy. Other than promoting speech in your child, it acts as a good dance companion for your kid, enhancing their fine motor skills as well as providing entertainment to the kid. Highly sensitive to the touch, the robotic dog will prove funny and carefree to your kid prompting them to join in the play.
Product

Image

Features

Purchase

WowWee Chippies Robot Toy Dog

Provide companionship as well as excitement to the kid who will be jumping about with the robot

-Has sensors and can help guard your kid

Check Price on Amazon

IHBUDS Remote Control Toy Robot for Kids

Provide companionship as well as excitement to the kid who will be jumping about with the robot

-Can record and sing encouraging the kid to speak

Check Price on Amazon

Fistone RC Robot Dinosaur

Provide companionship as well as excitement to the kid who will be jumping about with the robot

Check Price on Amazon

Kinetic Sand

 Helps with fine motor skills where the kid is able to mold things with non-sticky sand.

Check Price on Amazon

Radio flyer inchworm

Encourages play through bouncing and riding on it

Check Price on Amazon

Milliard therapy peanut ball

Help improve posture as well as an exercise equipment to increase a child's muscles. Kids will also bounce on it as a play item

Check Price on Amazon
What is Cerebral Palsy

Cerebral Palsy(CP) is a collection of permanent disorders caused by abnormal brain development or damage to the brain around the time of birth or in the first 3-5 years of a child's life. While premature delivery and complications at birth does not mean that a child gets cerebral palsy, it increases the chances of brain damage which can result to CP. Cerebral palsy is caused by:
Bleeding in the brain
Infections in the brain including meningitis or encephalitis
Seizures at birth or in the first month
Genetic conditions.

In some individuals, health care providers are unable to determine the causes of this condition. Cerebral palsy is a motor disability meaning it affects a person's ability to move and maintain balance and posture. Brain damage can also lead to other issues like sight, hearing, and learning problems. The fact that it is a permanent but non-progressive disorder has been disputed by few individuals living with CP.

When a parent hears that their child has CP, it can be quite devastating and emotionally draining. It is important that a parent or a caregiver understand that therapy would immensely improve their child's quality of life. Because their muscles can be extremely tight and hard to control, physical therapy can be frustrating. Introducing a little bit of play to supplement therapy can make quite a big difference.

Therapy Toys for kids with Cerebral Palsy

Benefits of toys to kids with CP

Toys loosen stiff muscles and strengthen muscle tone

As kids use their toys, they are repetitively exercising and stretching their muscles leading to looser muscles. This will also increase muscle strength and enable them to carry out daily tasks in a simpler way .

Fun way of engaging in therapy

Toys are fun for kids. A CP kid will want to keep on playing with a toy as it interests and engages them. This way they are able to engage in exercises which are a part of therapy without deeming it boring. They will look forward to it.

Improved sensory co-ordination

Kids with CP find it hard to coordinate hand and eye movement and most toys need exactly that. When a kid gets a toy of their preference, they will feel the need to enjoy consequently improving their hand-eye co-ordination.

According to cerebralpalsy.org wrong choice of toys for CP kids can be frustrating. Compiled below is a review of the best toys for a CP kid:

IHBUDS Remote Control Toy Robot for Kids
Check Price on Amazon

This toy robot is ideal for CP kids due to its automated properties. It can be used by kids in a variety of positions, whether in a wheel chair or side lying since it is activated only by touching the top of the robots head to trigger specific actions.

It interacts with your child since it has a feature that allows for recording of the child's voice for it to say it back. Through this, the child can improve their speech skills. Physical activity is very important for CP kids and this robot provides exactly that. With its pre-programmed music dance tracks, it can motivate a kid to become its dance partner making them engage in physical exercises which are therapeutic.

If you are thinking that your CP kid is much slower and has to be left behind in matters financial education, you are wrong! This toy comes with a built in piggy-bank to instill saving virtues in your kid. The hole through which coins are inserted is at the top making it easy to throw in a coin or two. This enables your child to reach milestones and be at par with normal kids his/ her age.

Robot Dog Toys
Check Price on Amazon

This is another one from the automation world. The best thing about this toy is that it is interactive by nature. This will help the speech skills of your child a lot. For every touch, its response is usually by a question which will encourage the kid to talk back immensely improving their speech skills. It's also a 'touch-response' toy. It has sensors on its back, nose, backside and tail for every action you want it to perform. For example when you touch its head it plays a song. It can engage in activities such as chasing and dancing which will benefit your CP kid physically. You don't have to worry about it bumping into obstacles and causing an accident for your kid since it can automatically avoid obstacles.

This robot dog can become boring in future as it repeats what it says over and over again; the song, the words are the same. After a while the kid may decide they are no longer having fun with it and discard it. It also doesn't work well on carpet so it would not be suitable for people with carpets all over the house. It is battery powered so you will need to keep replacing. It also doesn't have a volume regulation button and the default music setting is quite loud.

Fistone RC Robot Dinosaur
Check Price on Amazon

The fact that your kid can enjoy a dinosaur's company long after they became extinct is really cool. At least your kid can learn about dinosaurs by interacting with them in the form of a toy. This robot dinosaur is touch-sensitive making it very easy for your kid to operate and comes with an infrared diverse remote that replies to commands without delays. Therefore the kid will not be frustrated trying to get it work.

This dinosaur robot is very interactive as the mere touch of a button triggers it to shake its head wag its tail or even scream out. This will teach your CP child different ways of response away from the norm of other toys that only sing. It can dance too engaging your CP child physically. It also engages your child physically when it is in its fight mode. The child may want to imitate it thus working his/her muscles.
Nonetheless this toy cannot be used by kids of all ages due to its complex nature. Its fight mode can also be a source of fear to a CP kid, instead of bringing in the fun that it was meant to.

Kinetic Sand, Folding Sand Box with 2lbs of Kinetic Sand
Check Price on Amazon

There is a genuine concern raised about the toxicity of kinetic sand. So I will start by addressing this. The toy is made with a special formula of real sand and polymers which makes it hypoallergenic and non toxic. The sand is magnetic, so you don't have to worry about stickiness.

Every CP parent or caregiver wants their child to experience the best of life including playing with sand at the beach. Taking your kid to the beach to play with sand can be some sort of a challenge. However this toy brings that reality to your home. The kinetic sand feels exactly like beach sand. Your child can now build a sand castle or mold anything at the comfort of the house. This increases a CP kid's creativity skills, works their muscles as they continuously try to build. CP kids too are gifted and this sand box could help awake an untapped talent inside your child. It is worth mentioning that this can be used by kids of all age.

Its only problems are; the sand inside the box is not a lot and you would have to buy some extra packs especially if your kid is older. The sand box has no handle which it should really have for ease of carrying.

The new Inchworm
Check Price on Amazon

A little bouncing action does so much to a CP kid in terms of relieving their muscle stiffness. Imagine what a bounce and go would give your kid? It would significantly improve their motor and sensory skills and consequently provide a better life for them. This is exactly what the new inchworm presents to CP kids. It allows children weighing 25lbs-50lbs to enjoy some action and active play with ease through its bounce and go. If you are worried about stability for your CP child, the inch worm comes with an ergonomic saddle, integrated footrest and a heart shaped handle which ensure that your kid will enjoy the ride. However, you may help them the first few times.
In addition to this it has a friendly face and a hat which is quite a bonus for a CP kid who may be scared of trying it out at first.

The reviews of the inchworm on Amazon indicate that the 25lb-50lb weight requirement for the inchworm to work as required might not be true. This makes it hard for children around this weight to bounce and go unless more weight is added. You might want to research more on this to avoid disappointing your child.

Millard Peanut Ball
Check Price on Amazon

This ball instantly becomes a favorite for many kids who use it. Kids love the silly shape. It's a peanut, it's a horse and it's a punching bag.
It is a fun and function ball. If you are wondering how you would make your CP kid enjoy the next therapy session while at the same time ensuring they relax and strengthen their muscle, look no further. This seat presents a fun way for sitting, exercising and positioning while still offering support which is essential for CP kids. Additionally, it helps with coordination, balance and sensory improvement.

It can withstand up to 750 pounds in weight and is free of BPA, phthalates and latex to ensure it doesn't trigger any allergic reactions guaranteeing your child's safety. It can easily be cleaned with a damp cloth so no need to worry if your child spills something on it. It is available in many colors and the fun part about this is that it presents an opportunity to interact with your child and ask them what color they would prefer. Making them part of decisions is important too. Of course this will not be possible if it is a surprise.

Conclusion on Toys for CP Kids

It is with no doubt that toys are essential for the growth and development of children with cerebral palsy. They help them learn social skills, reach milestones and improve language skills. Finding the right toy for a cerebral palsy child can be a difficult task. Many toys have an age restriction indicated by the manufacturer. However, this can be misleading for a cerebral palsy child.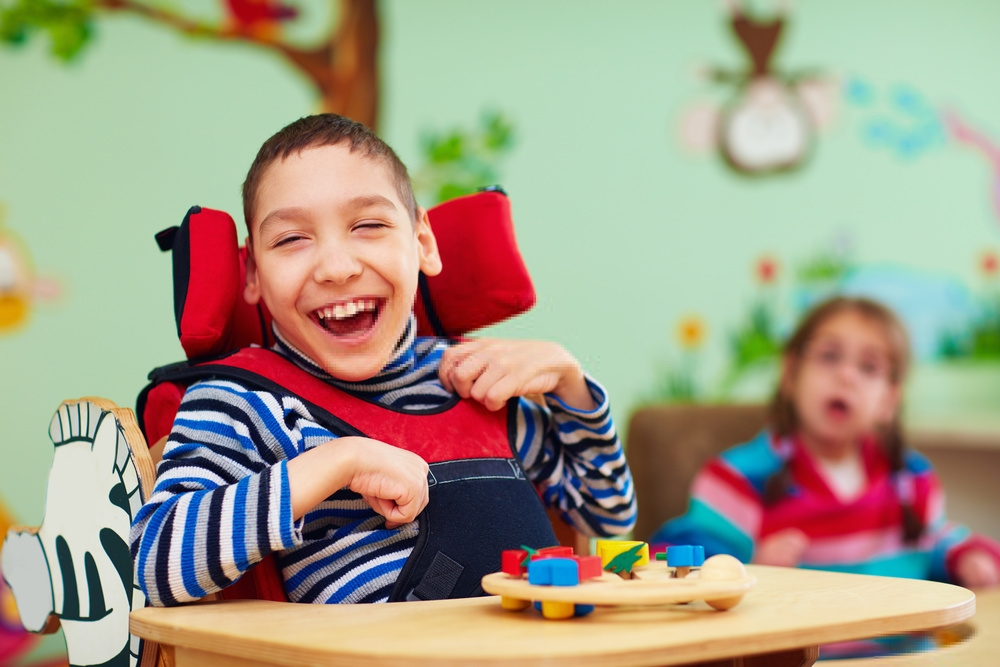 Whether you are a care giver, a parent or just a friend who wishes to gift a cerebral palsy child, it is important that you identify the child's development stage and individual needs to be able to select the best toy for them. For instance check whether a toy can be used by people with limited motor function before buying. Going through product reviews like this one will also help a great deal.

The above reviews will greatly enrich your search. Nevertheless, if you need more help selecting toys for your child, Toys R us will guide you through it. Rather than being frustrated by the toys the child will enjoy them if you exercise patience. Be patient and guide them through the process of using the toys and having fun while at it!