Without further ado, we want to tell you that the Little Tike 3′ trampoline is the best indoor trampoline for kids who are on the autism spectrum disorder. For one, it is sturdy and two safe with a strong dual weld to ensure that the kids will not fall off as they play. This trampoline will not only keep your kids thrilled and active but will also foster hand-eye coordination and social play.
At only 3 feet from the ground, a handle bar, big jumping space and with a soft foam pad round the metallic parts, the Little Tikes is indeed safe for your 3 to 6 year old children.
[amalinkspro_table id="3701″ aff-id="undefined" new-window="on" nofollow="on" addtocart="off" /]
Is your autistic child always flapping hands, annoyingly snapping their fingers or repetitively banging their heads with their hands or on surfaces?
This is an indicator that they need sensory stimulatory activities to keep calm. While such activities might look harmless at home, they will shame you in public.
People will look at your child as though they are weirdos and coin up all manner of names because of these stimming activities.
You can help fix this by getting your child a trampoline. By repetitive jumping on the trampoline, your child gets the sensation that they require.
Trampolines have been found to increase motor proficiency in children with adhd and autism. In a study conducted involving 6 children trampolining over a course of 20 weeks, the children with autism were found to get a better body balance, speed, agility, bilateral coordination and upper body strength.
ADHD (attention deficit hyperactivity disorder) is a medical state where a person has differences in brain development and activity that affect attention, ability to sit static, and self-control. Some signs of kids with ADHD include:
Absentmindedness_ kids who are inattentive have trouble focusing their attention, concentrating or staying on a duty. They may miss important messages or may fail to complete a task they are given.
Overactive_ kids who are overactive are kids who are restless, fidgety and get bored easily. They may rush on things and make careless mistakes. They may act in ways that disrupt others unintentionally.
Impulsive_ kids who are impulsive find it hard to wait for something, they may grasp or gnash for things that do not belong to them. They may have sensitive reactions that are too extreme to them.
Autism also autism spectrum disorder (ASD) is a complicated disorder that includes problems with communication and behavior. People with autism have a problem with communication and understanding which makes them hard to express themselves through either words, gestures or facial expressions. People with ASD could unusually be good in music and problem solving tests despite the fact that they have a problem in communication.
Benefits of a trampoline to autistic kids
Kids suffering from autism and ADHD often undergo unease and built up stress. Most of the times they always try to often jump up and down to relieve themselves from the tension they have. If this is done in a room full of furniture or sharp objects it could lead to injuries to their bodies. Jumping on a trampoline in such occasions saves the kid from pains or from such injuries after a busy day. Jumping on a trampoline works as a soothing tool for such unease and it also acts as anti-stress too. People with ASD have to deal with imbalances and for them to control such imbalances the will have to get a relief like rocking, swaying and fidgeting.
The benefits you are going to experience in your child who has autism when they start using trampolines include:
Kids show signs of progress when it comes to both their motor skills and relations with other children.
A trampoline acts as a friend to an ASD kid and therefore if other kids were afraid of keeping company with an ASD kid then they can enjoy while using a trampoline.
As trampolines need kids to concentrate not to fall down, it also act as a tool of setting kids to be present-minded.
Related: Skybound mini trampoline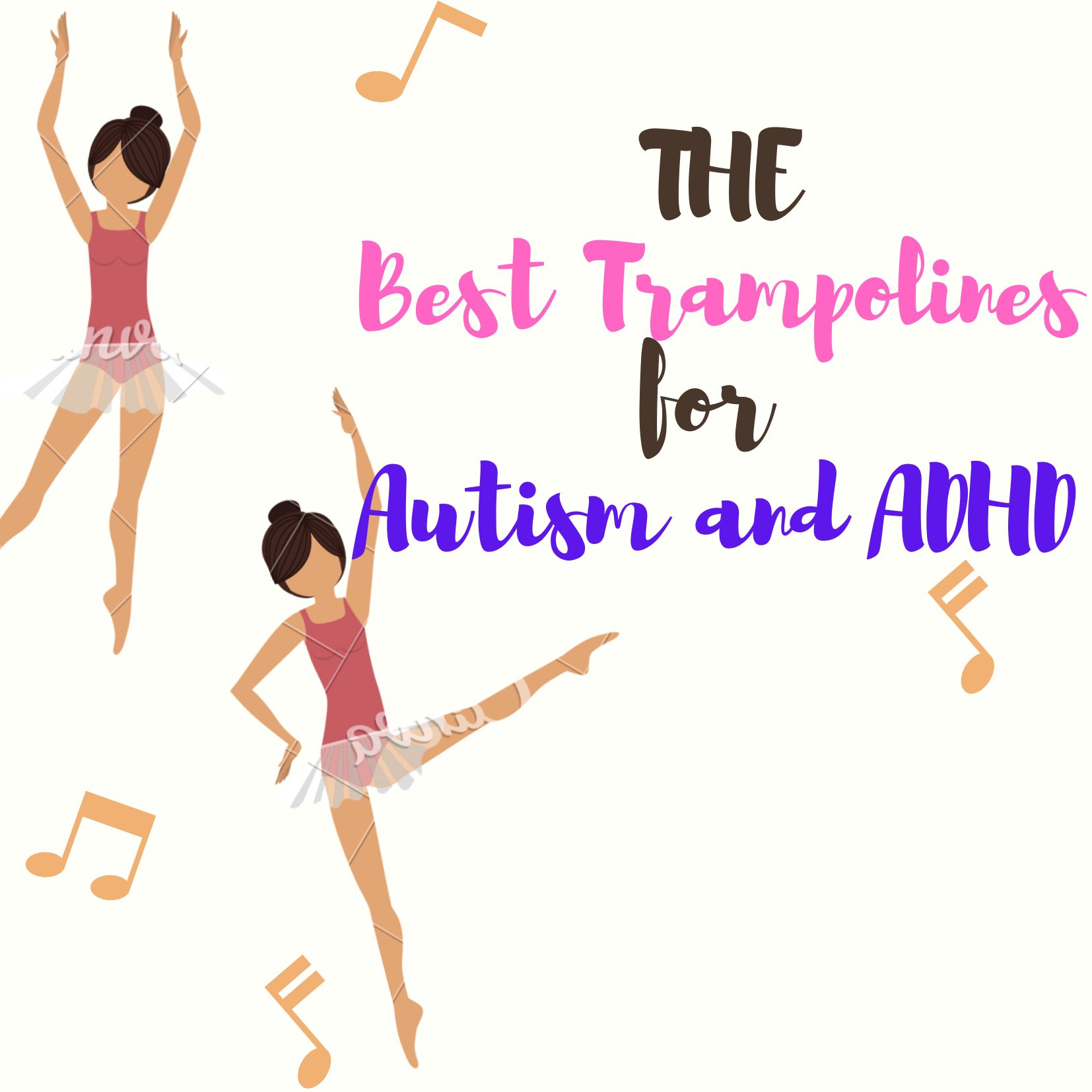 Benefits of a trampoline to ADHD kids
Many people have trampolines in their homes as a form of entertainment. You can also use a trampoline for the benefit of your kid who is suffering from ADHD to manage it and also for having fun. The following are ways in which people suffering from ADHD benefit from trampolines:
They get fit
A trampoline will improve your overall fitness from improving your muscles strength, boosting the cardiovascular system, spending an afternoon bouncing on a trampoline is the best way to improve your health. If you suffer from ADHD your brain has less dopamine (plays a part in controlling movements a person makes as well as emotional responses.) which is necessary for clear thinking. Regular exercise like jumping on a trampoline will encourage you brain on producing more dopamine which improves your brain functioning.
Boosting confidence
Kids who suffer from ADHD encounter inferiority when compared to others since they have a slower thinking rate and their performance is seen to be poor in schools. This feeling may long continue to adulthood. Bouncing on a trampoline acts as a highly effective tool for boosting confidence of such a kid and make them feel self-worth.
Enjoying social interactions
Social interactions makes people with ADHD to struggle a lot since they find it hard to concentrate during detailed talks. A trampoline makes a kid to concentrate since they will have to concentrate to watch on themselves not to fall down. It also helps improve social skills to behave in a certain kind of way. Spending time in a trampoline is a better way of combating feelings of isolation which is also a way of being yourself or spending time with loved ones.
Safety of trampolines for toddlers
Even as we review our trampolines, we need to be aware that some safety mechanism have to be put in place. Trampolines have been found to cause a wide range of injuries on unsupervised kids. They could lead to sprains and bone fractures. You do not want this, do you?
In fact, the American Academy of Pediatrics has banned the use of trampolines by toddlers below 6 years. But on examining the therapy benefits of trampolines for your kid, we see that they are still good but only if the following are observed:
No trampolining by a toddler without adult supervision
No risky gymnastic antics or flips are allowed
Only one toddler to use the trampoline at a time
The trampoline should not be raised more than 20 inches from the ground. It should not have a ladder
Every trampoline to have a safety net enclosure plus be well padded.
Best Trampolines for kids with autism and ADHD
Childrens Mini Indoor Trampoline with Handle(ADHD, Autism &Sensory)
Includes two removable foam cover handle bars for support and balance, thick PVC safety pad, patent pending safety mat skirt.
It has a strong dual welded and a safe frame. The weight of the frame makes the trampoline safe for use.
It ensures developmental growth for kids by allowing them boost their motor skills, hand-eye coordination and balance.
The trampoline is safe for any environment either indoors or outdoors.
Little Tikes 3' Trampoline
Perfect for toddlers to burn off energy.
Contains large jumping surface and handle bar for stability.
Contains a combination of plastic and metal.
For indoor use only for kid of age 3 to 6.
Bluerise Easy To Assemble 6 Foot Kid Trampoline With Enclosure Net Jumping Mat Safety Pad Trampoline for Kids Adults Heavy Duty Round Bounce Jumper Trampoline With Handle Indoor
PP safety pad has strong elasticity, low wastage, long life and good entertainment environment.
Safety enclosure nets are well connected to the steel tubes which connects enclosure net with the spring cover. This also eliminates gaps to ensure safety while jumping.
Heavy duty rust resistant frame with patented T-weld design leg design and foam outer edge make up a design to provide extra stability.
JumJoe Kids Trampoline – 36 inch, with Handle Bar, Safety, Portable – 1 Year Warranty (Red) with Safety Pad
Easy to fold and transport.
Indoor and outdoor use which is a great way for better fitness a coordination for kids.
The safe and strong heavy duty steel frame supports it up to 150 pounds.
Has a one year warranty if you are not satisfied with the trampoline for a refund.
5. Dpforest foldable trampoline
Looking for a new toy to keep your autistic kids entertained?
The Dpforest Foldable Trampoline is the perfect solution. It's small enough to fit in any room, but big enough for two people! Your kids will love jumping on this trampoline and getting some exercise while they have fun. And it's so easy to set up that you can do it in just seconds.
This mini trampoline is great for all ages, from toddlers to adults! It has a safety pad cover and comes with handrail supports so your little ones won't fall off while they're playing. Plus, it's foldable and lightweight – perfect if you want an outdoor or indoor activity that doesn't take up much space at all.
6. LANGXUN 60″ Trampoline for Kids
Are you looking for a gift for your little one?
The LANGXUN 60″ Trampoline is perfect for kids of all ages. It's the perfect size and height to keep them safe while they jump, bounce, and play. With an enclosure around the trampoline, it can be used inside or outside with ease. Plus, there are basketball hoops on either side so they can practice their game anytime!
This is a great birthday present that will provide hours of entertainment and exercise. Your child will love playing in this fun environment where they feel safe but still get plenty of exercise! And don't forget about the parent-child bonding time as you watch them from above!

Skywalker Trampoline 8′
The Skywalker trampoline is a great way to get active, have fun and stay healthy. The Skywalker 8′ trampoline provides a compact size that fits nicely into nearly any backyard or play area. It's the perfect size for children and adults of all ages! This model features our patented safety enclosure netting system for ultimate protection from falls. The steel frame is covered with weather-resistant padding, making it ideal for year-round use. Our sturdy construction ensures years of fun in the sun!